The town of Incline Village is not that big in terms of area when compared to other communities in the Tahoe Basin, such as Tahoe City or South Lake Tahoe. At first glance, too, the entire scenic setting looks exactly the same: beautiful.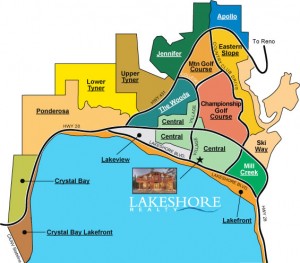 While all sections of our great town contain stunning coniferous forests, beautiful views, serene atmospheres, and the general Sierra alpine ecosystem, there are a few subtle – and not so subtle – differences. Whether it be large lots, flat lots, sloped lots, lake or canyon views, lake access, hiking trails, proximity to shopping and restaurants, or condominiums versus mostly single-family homes, getting familiar with each Incline Village neighborhood should help potential buyers find their ideal property faster and easier.
Again, there are many similarities and you can find a wide range of homes and condominiums in each section, but below are the different neighborhoods and some general facts about each of them.